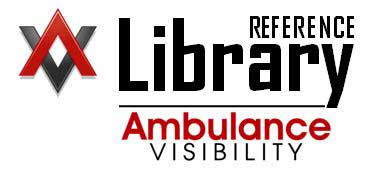 Key Conspicuity and Visibility Reports
Crikey! It's cognitively complex*
Langham, N and McDonald, N - 2007
Signal lighting system requirements for emergency, school bus and service vehicles
Post, D. - University of Michigan 1978
Lights and siren: A review of emergency vehicle warning systems*
De Lorenzo, R and Eilers, R - Annuls of Emergency Medicine 1991
Flashing Warning Lights on School Buses*
Payne, M and Fisher, 1996
Countermeasures - Ford CVPI Study*
How close is too close?
Motorcycle Action Group 2006
Review of the 'Looked But Failed to See' accident causation factor
Brown, I - Department of Transport, London 2005
An investigation of the role of vehicle conspicuity in the 'looked but failed to see' error in driving*
Langham, M. - Thesis for University of Sussex
An analysis of looked but failed to see accidents involving parked police vehicles*
Langham, M. Hole, G. Edwards, J. O'Neil, C -

School of Cognitive and Computing Sciences, University of Sussex 2002
NCHRP Report 624, Selection and application of warning lights on roadway operations equipment*
Gibbons, lee, Williams & Miller - Transportation Research Board 2008
Searching for fluorescent colored roadway signs: bottom up vs top-down mechanism*
Scieber, F - University of South Dakota - 2002
PDF guide to hazard Markers*
Queensland Department of Transport & Main Roads 2009
Florida Highway Patrol emergency lighting research and prototype evaluation*
Lieutenant James D Wells Jnr. 2004
Emergency vehicle visibility and conspicuity study - FA323*
Federal Emergency management Agency - August 2009
Seeing the Light - the science of choosing proper emergency lighting for patrol cars*
Molnar, J. - Law Officer Magazine - March 2008
Report on the CIE workshop: Photometry of Flashing Lights*
Poland, June 1999
Improving the Ability of Drivers to Avoid Collisions with Snowploughs in Fog and Snow*
Yonas, A. Zimmerman, L. - University of Minnesota - July 2006
Effectivness of heavy vehicle conspicuity treatments under different weather conditions*
Hildebrand, D. Fullarton, P. - University of New Brunswick - 1997
Conspicuity markings requirements on goods vehicles*
UK Freight Transport Association - Compliance guide
Motor vehicle and Pedal Cycle Conspicuity - Part 1, Vehicle Mounted Warning Beacons*
Cook, S. Quigley, C. Clift, L. - March 2000 PDF 1.3Mb
Summary of Motor Vehicle and Pedal Cycle Conspicuity - Part 2, Pedal Cycles*
Clift, L. Southall, D. - May 2001
Motor vehicle and Pedal Cycle Conspicuity - Part 3, Vehicle Mounted Warning Beacons*
Cook, S. Quigley, C. Clift, L. - June 1999 PDF 1.3Mb
Materials for IR and visible material identification from surveillance aircraft*
O'Keefe, E. - SPIE Newsroom, 17 April 2006
Forensic aspects of driver perception and response*
Olsen, P. Farber, E. 2003
LED lighting for snowploughs and related maintenance and construction vehicles*
Warning Lights, Parking and Scene Safety PowerPoint*
Faugh, J - Warning -
Large file (10Mb)
Motorcycle accident cause factors and identification of countermeasures*
Hurt, H. Ouellet, J. Thom, D.
High Conspicuity Livery for Police Vehicles*
Harrison, P. – Home Office, Police Scientific Development Branch 2004
Conspicuity of Heavy Goods Vehicles - Final Report*
European Commission - December 2004
Roadworker Conspicuity - Daytime and Nightime*
Hekman, S. and Palmer, M. - Transport Research Laboratory UK (TRL) - September 2010
Warning Lights for Public Works Vehicles*
Interview with Stephen Solomon and Gerald Ullman in Lone Star Roads
People vs Hudson (California)*
Visual detection of detectable warning materials by pedestrians with visual impairments*
Jenness, J. and Singer, J. - Federal Highway Administration 2006
Vehicles and Vulnerable Groups*
Vehicle colour, Motorcyclists and accident trends 2004
High Conspicuity Garments for Roadworkers - Final Report*
Chattington, M. Langham, M. Rillie, I.
Accoustic characteristics for effective ambulance sirens
Carl Q. Howard, Aaron J. Maddern and Elefterios P. Privopoulos
School of Mechanical Engineering, The University of Adelaide, Adelaide, South Australia
Visibility and judgement in car/truck night accidents*
Ayres, TJ. Schmidt, RA. Steele, BD. Bayan, FP.
Document no longer available
Performance analysis of squad car lighting, retroreflective markings and paint treatments to improve safety at roadside traffic stops*
Fischer, J. Kzmarzick, K. Menon, A. Shankwitz, C. - May 2012
Improving worker safety through better visibility*
Thermal Roof Markings for Police vehicles*
Brooke, A. - UK Home Office, Police Scientific Development Branch - 2004
Improving Road Safety by increasing truck visibility*
---
Government & Organisational Index
Australian Government - Department of Infrastructure & Transport
Road Safety Publications Index
Monash University Accident Research Centre (MUARC)
Report Index